Covid-19, Coronavirus Clinical Trials in Canada
With the pandemic of Covid-19 continuing across the globe, pharmaceutical companies, scientists, hospitals and health care organizations around the world continue to accelerate clinical research to find a treatment and possible vaccine. In Canada, the number of Covid-19, coronavirus clinical trials has been steadily growing.
As of May 1st, 2020, there were 29 active Clinical Trials operating in Canada focused on Covid-19. (See the report below).
Although Clinical Trials take time, we expect further growth over the next few months in the number of Clinical Trials for Covid-19 in Canada and around the world. We will publish any updates as data of new Clinical Trials are made available.
Health Canada has published certain guidelines as it pertains to the management of clinical trial applications (CTA) during the Covid-19 pandemic. Such guidelines include:
Health Canada will prioritize the review of clinical trial applications designed to investigate the diagnosis, treatment and/or prevention of COVID-19.
Sponsors may continue to file other CTA and CTA amendments according to Health Canada guidance.
During the course of a CTA review, if sponsors are unable to respond to an Information Request (IR) within specified time lines, consider withdrawing the submission without prejudice and refiling when the information is available.
Please visit Health Canada's information page for further details on their guidelines for clinical trials during the Covid-19 pandemic.
---
Download the Covid-19 Clinical Trial in Canada summary report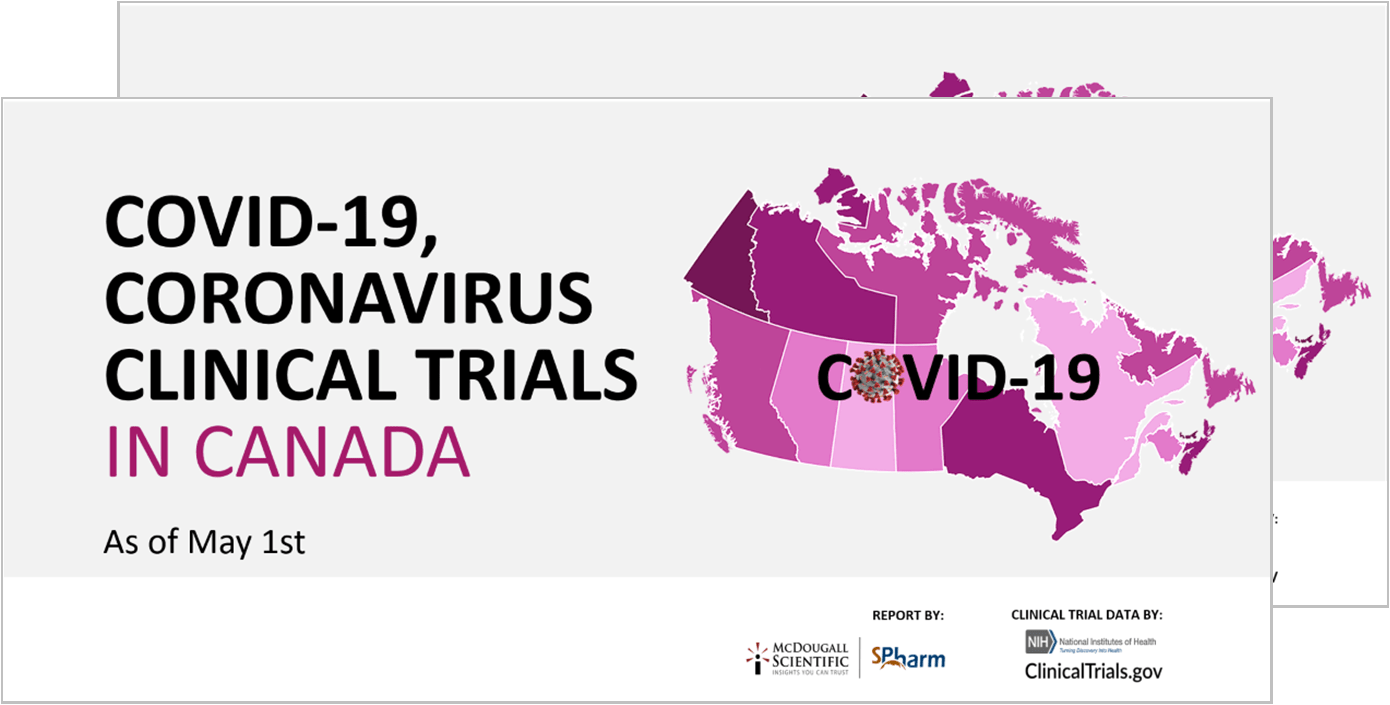 We have co-published a report on Covid-19 Clinical Trials in Canada with our friends at the Clinical Research Organization (CRO) McDougall Scientific. We have taken clinical trial data for Canada directly from clinicaltrials.gov provided by the National Institutes of Health and published a summary of the data in a format that is hopefully useful to digest.
Some of the data provided includes:
# of Covid-19 Clinical Trials by Canadian Province
# of Covid-19 Clinical Trials by Sponsors/Collaborators
# of Covid-19 Clinical Trial by Drug Interventions

With a quarter of a century of consistent and successful results, SPharm has become one of the leading Drug Regulatory Advisory firms in Canada. Drug companies from around the world count on SPharm to help them navigate the drug (and other health products) review & approval process in Canada.
Avec un quart de siècle de résultats et de succès constants , SPharm est devenue une entreprise de services de référence au Canada en stratégie de développement de médicaments et affaires réglementaires. Des compagnies pharmaceutiques à travers le monde comptent sur SPharm pour faciliter le processus d'homologation de leurs médicaments (et autres produits de santé) au Canada.