SPharm Regulatory milestones through the years.

Follow some of SPharm regulatory milestones on the way to becoming one of the leading drug and health product regulatory firms in Canada.
FOUNDING OF SPHARM
SPharm is founded as a consultancy in the drug regulatory industry in Canada.
CONTINUED GROWTH
Company continues to grow, hiring more staff members and expanding to other categories of health products.
COMPANY OF THE YEAR AWARD
Receives Chamber of Commerce award: "Company of the year".
NEW BUILDING, MORE GROWTH
Company continues its growth and purchases its own building to establish a larger HQ.
APPROVAL IN CANADA FIRST
SPharm continues to push boundaries as it helps Health companies get Drug Approval in Canada BEFORE they get approvals in any other market (USA, Europe).
BUILDING AN APPEALS EXPERTISE
Successfully defended its third administrative appeal at Health Canada. When a Notice of non-compliance or a License refusal is received from Health Canada, that decision can be appealed through an administrative process. SPharm ultimately received approvals for its clients after the appeals.
RECOGNIZED AS AN EXPERT WITNESS
SPharm founder, Susanne Picard, is called upon as a subject matter expert for Pharmacy litigations.
RARE DISEASE DEVELOPMENT
Contributed to a rare disease drug development from conception to Health Canada approval in less than 4 years.
MORE GROWTH, MORE STAFF HIRES
As the company continues to grow, more staff is hired to meet continued demand and improve operational effectiveness.
IMPLEMENT INTERNALLY eCTD SUBMISSIONS
Company implements CTA and other submission types in eCTD format in Canada and worldwide. SPharm does this work internally for clients, as it is more efficient than coordinating with a third party.
OVER 100 CTA SUBMISSIONS IN A YEAR
Reached an impressive +100 CTAs/CTA - Amendments submissions in a single year.
OVER 210 SUBMISSIONS IN A YEAR
Company reached a new record of over 210 total submissions in that year. Includes Clinical Trial Applications, New Drug Submissions, Medical Device License Applications, Abbreviated New Drug Submissions, DIN applications, Lifecycle management submissions, among others.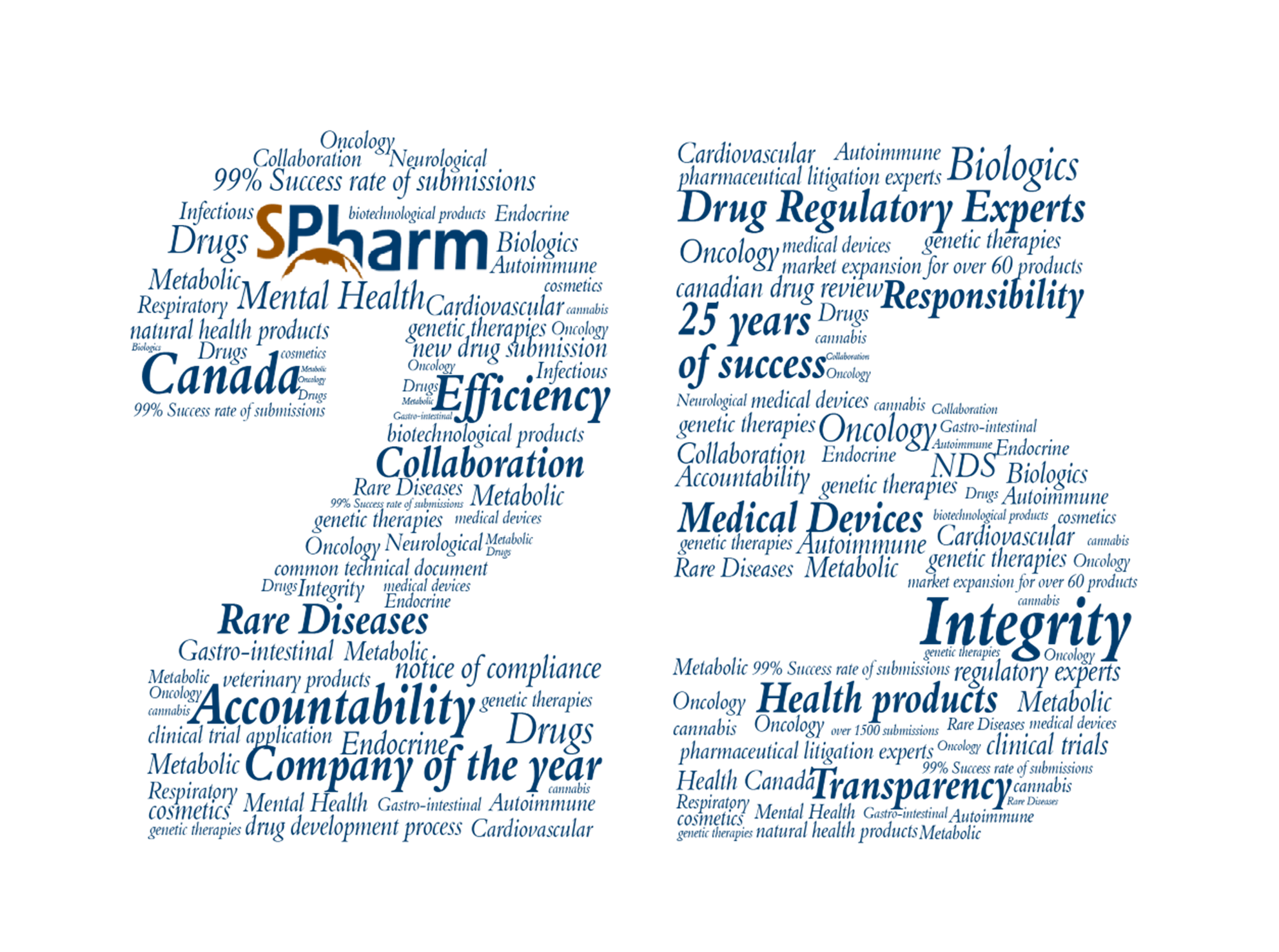 25 YEARS OF REGULATORY EXCELLENCE

"SPharm truly are Canada's Drug Regulatory Experts! An exceptional team, lean and efficient with 100% understanding of Health Canada. They are the perfect partner in their field, seamless, proactive, prompt! We've worked with them for over 20 years and when I meet with sponsors, I openly recommend SPharm for any regulatory needs in Canada."

"The opportunity to work with Susanne and SPharm for over 20 years testifies to the quality of work and the relationship one experiences with the SPharm team. They became an extension of our own, our success enriching our relationship over the course of business in parallel with a great friendship."

"We have had the pleasure of working with SPharm since the inception of our company, and since then SPharm has consistently exceeded our expectations in terms of service, timeliness, and deliverables. They have been a key factor in the success of our pharmaceutical company."
Find out what SPharm Regulatory Consultants can do for you.
Learn how our proven expertise can help reach your objectives faster. Contact us today.